Search Engines - What is Google Venice?
What is Google Venice? Simply put, it is Google ranking its results based on where you are located,

at the time of making your search,

in much higher rankings in the results pages. But why is Google doing this now, and does it really make a difference?
Below is an example of what you would likely see on Google.com if you were searching for an accountant from a computer located in Tucson Arizona: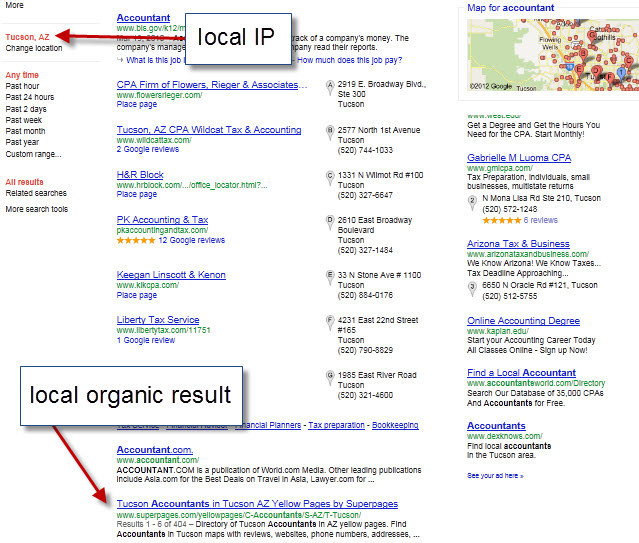 If you look closely at the picture above, you might notice that something interesting has happened on the results page. A local organic search result is coming up on the first page, and it is not a part of Google Places.
To offer a possible explanation of why Google has decided to do this, it might be best for us to discuss basic web search principles, such as what a satisfactory web result needs to be. A satisfactory web result should be both high quality in the content it presents, as well as relevant to the person who is searching for the information. Quality content can be described as well written, thorough articles. A relevant result would be a result that the searcher finds useful. The search engine needs to decide what the ideal combination of quality content and relevant results is. Venice further clarifies how Google determines what constitutes a relevant result.
A search for an accountant from a non US IP address would likely get you to this page. If you were in fact sitting in Tucson Arizona and Google sent you to this page, it might be less helpful than the one above.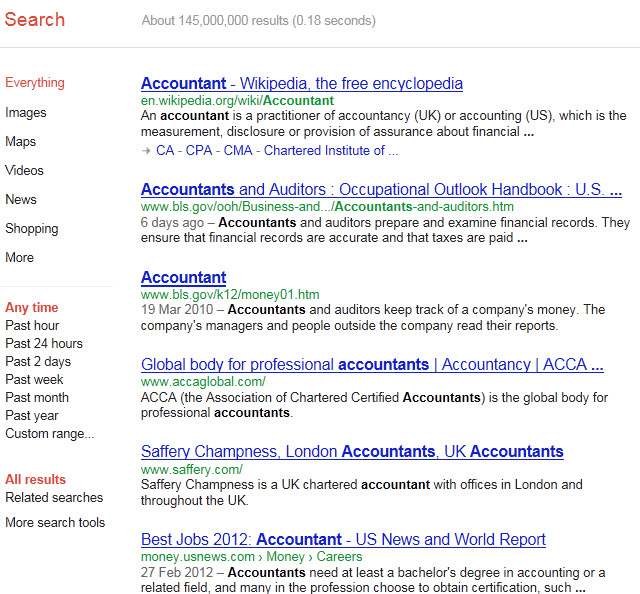 The search engine may be boosting local results for certain cases where a locally relevant result is a must. Assume for instance you are the one looking to hire an accountant. You would probably want to meet him or her in person, discuss your issue in confidence, and see if the professional is the right fit for you. For these reasons, many people would not find results from amazon.com or buy.com relevant, as they provide little in the way of a brick and mortar store. On the other hand, your neighborhood jewellery store may not have the highest quality websites. With the Venice update, which prioritizes local results, it seems Google has chosen to go for local relevance as a deciding factor of what is relevant to the searcher.

But what does it actually mean; will it make a difference to the search industry as a whole? Two major repercussions resulting from this change come to mind. Firstly, if your customers are looking for jewellery in your urban area, you can actually cross your fingers that they will find you on the first page of Google when they are searching for you. Secondly, national and international retailers might find themselves frustrated had they been recently clinging to the bottom of the first search results page of Google. Essentially, what it might mean is more clout for the little guy, and more SEO expenses for the bigger guys.

This does not sound all bad, but if you are a local business, it may just mean that although the playing field is more level, the game has not been rigged in your favor yet. Expect lots of competition from local businesses who are noticing that Venice might be their opportunity to shine. Also, be aware that new strategies to leverage Venice are just around the corner. Ultimately, that means that the big names will do their best to keep themselves on the first page, and your peers will also do what they can to get themselves to the lucrative spots that were previously unavailable to them.

2 Responses to Search Engines - What is Google Venice?

France
says:
March 29,2012 at 08:42 pm
You completed some good points on rankranger. I did a search on the theme and found the majority of persons will have the same opinion with your blog.

Gabrysia Szczepańska
says:
March 29,2012 at 11:52 pm
This is a good blog message, I will keep the post in my mind. If you can add more video and pictures can be much better. Because they help much clear understanding. :) thanks Cavalieri.