Take your

SEO business

to the next level with

daily reports

and insight into your

website traffic

and

marketing achievements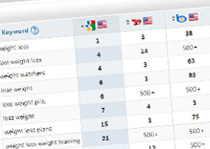 Track & analyze your
search engine rankings
quickly and
efficiently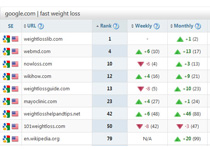 Generate
detailed
daily, weekly
or monthly
SEO reports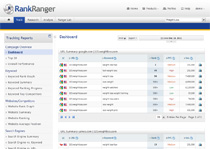 Powerful
Rank Tracker
Tool with a Smart
user-friendly
interface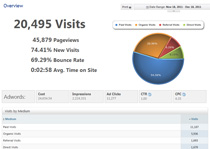 Save time
& maximize your
website performance!
Integrates with:


Local Rank Tracking
Are you doing SEO for local businesses?
Rank Ranger lets you track site rankings in Google's personalized results by selecting custom parameters such as users' language, location, and filters that allow you to view the results a customer sees.
Learn more...
How do you want to monitor search engine results?
In addition to
Google Places
results, Rank Ranger allows you to customize select aspects of how it counts the rankings in your reports
Learn more...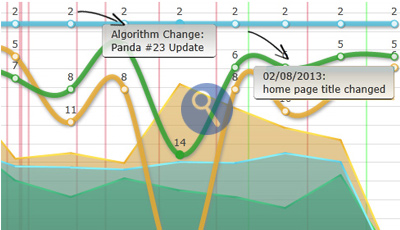 Rank Ranger also supports
Google Mobile
search, enabling you to track rankings generated from mobile device traffic.

Daily SERP Tracking
How deep do you want us to dig? We track the
top 500 ranking
results on Google, Google Places, Bing, Yahoo.
We also track rankings on unique search engines like YouTube, Baidu, Yandex, Alexa, Senzam & Atlas


White Label PDF Reports
Easy to build and customize, Rank Ranger's White Label PDF Reports display your logo and are automatically sent weekly or monthly to specific email addresses. Features include multiple sub-reports, custom cover page and layout templates, linked bookmarks/thumbnails and text boxes for explanations, personal comments and more.
Sample SEO Report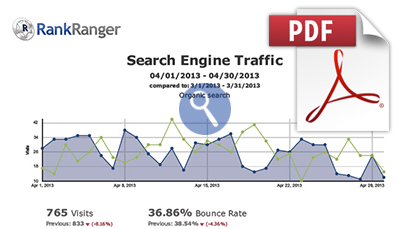 White Label Portal
Provide your clients with their own user portal to our system, under
your logo
.
Our White Label Portal is a fully customizable white label dashboard through which you can select and setup specific reports you want your customers to view online. This is ideal for SEO companies that would like to give their clients the ability to be hands-on with their SEO projects.
Experience our White Label Portal
(password is
demo
)

Reporting & Graphs
Rank Ranger provides the best reporting you'll find! Guaranteed!
Choose from a wide variety of Rank Tracking, Research and Analytical reports and graphs.
Learn more...
For example, our Rank Graph can be fully customized. If you connect Google Analytics to your campaign you can mix the Traffic into this graph and also choose to show Google Algorithm updates or Notes that display as trend lines demonstrating the impact of the update or action.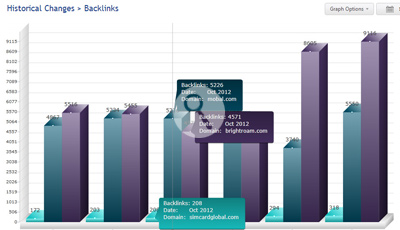 Interface with Google Analytics
Interface with Google Analytics through Rank Ranger and learn more about the relationship between your keyword traffic, organic rankings and PPC campaigns.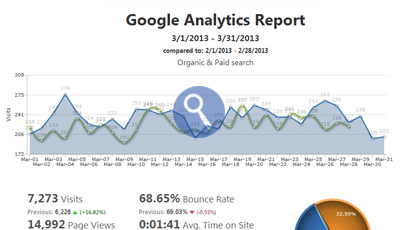 Tracking Competitors
Quickly spot the competitor that just took your place in the latest search results.
Rank Ranger Competition Intelligence Premium service identifies rapidly advancing competitors that threaten your Search Engine ranking and even catches new competitors when they've only just begun promoting their websites.

Know Your Market Share
Increasing market share is one of the most important objectives of any business.
Rank Ranger enables you to integrate with Google Analytics and plan your future strategic and tactical marketing activities by analyzing your websites' search engine traffic and generating smart reports that outline your market share for each keyword. Information is power, and Rank Ranger can provide you with the information you need to increase market share.

Website Stats
Rank Ranger conveniently pulls all the relevant data you need from other tools such as Google Analytics, Google Webmaster Tools, MajesticSEO, Ahrefs, and SEOmoz and concentrates a wealth of indispensable data all in one place for use in a variety of our customizable reports and graphs.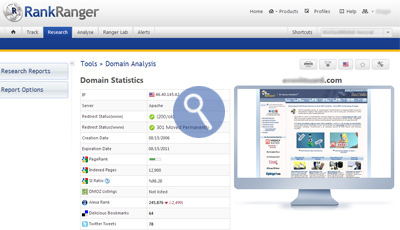 Alerts & Notifications
You can easily set up alerts if you want to be notified every time a keyword you're tracking enters the X position or drops X positions.

Events & Notes
Record all of your SEO efforts and actions.
Notes & Events can be integrated into your reports and Rank Graph giving you the ability to see the impact of your efforts over time, and can act as a reminder to bring specific successes to your customers' attention.

Export Historical Data
Rank Ranger gives you access to export your complete month-by-month historical account data for all your tracked keyword positions. You can view and export a report that will show you the rankings of a specific day with daily / weekly / monthly changes. We also make available many views for reports such as a daily snapshot of rankings for any desired time period or a monthly snapshot, and also averages and overall performance reports.

Multiple User Accounts & SEO Project Management
Have multiple members on your team? You can create sub-users within your account so everyone has their own login details. You can also assign "roles" if you want to limit what the user can do and see.
Rank Ranger helps you increase productivity and collaborate easier, manage your team efficiently with role-based permissions for multiple users, and accurately measure your SEO efforts.

APIs
Rank Ranger API allows you to customize and integrate our databases into your own web and mobile applications and platforms. Rank Ranger tracking data is available in XML format through the API.
You can see the full methods list that we offer
here
.

Personalized Service
Rank Ranger is committed to providing its customers with excellent service. Each and every query sent by customers is individually answered by Rank Ranger team members who have hands-on experience with our software. We are always interested in receiving feedback, suggestions and requests for new features. In fact, much of what Rank Ranger does today is a direct result of what customers from the beta phase and beyond have requested. We are a customer-driven company and will continue to listen to our customers with the goal of providing them with the tools they need to offer the best SEO services to their customers.
What are you waiting for?
With daily keyword tracking and support for over 400 local and international search engines, Rank Ranger provides you with your own custom SEO Platform toolkit - SERP tracking, website performance research and analysis, SEO alerts, customized automated white label reports and graphs, and much more.
Register for your free trial of Rank Ranger today!
"We've used a lot of different tools to track rankings and were never satisfied until we found Rank Ranger. It is one of a kind for both convenience and accuracy. To top it off, their customer service is truly outstanding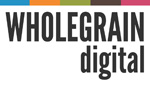 Tom Greenwood
WholeGrain Digital
"This is an awesome product - one of the best on the market - it shows you all the data you need to track your website rankings. I have used many other products and this is far superior and the cost is impeccable! Thanks Guys!!!!!!

Roy Watkinson
The Serviced Office